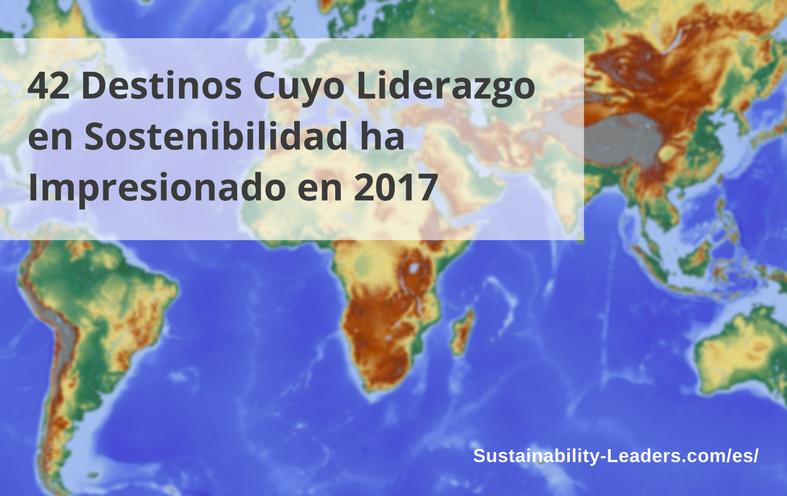 Algunos dicen que es imposible que un destino sea realmente sostenible, y quizás tengan razón. Pero eso no significa que las ciudades, regiones y países no deban aspirar a desarrollar y gestionar el turismo de la forma más sostenible posible. Pero ¿cómo hacerlo? ¿por dónde empezar?
Consultamos a nuestro panel virtual de expertos sobre los destinos cuyo compromiso con la sostenibilidad los ha impresionado este año, y que podrían servir de ejemplo para que otros los sigan.
La pregunta:
En lo que va del año, ¿qué destinos te han impresionado más, en cuanto a su compromiso con la sostenibilidad, y por qué?
Nuestro panel eligió sus respuestas con total libertad (y los panelistas también podían omitir esta pregunta por completo si, por ejemplo, no percibieron ninguna mejora notable de sostenibilidad en los destinos).
Curiosamente, aquellos que respondieron mencionaron destinos de todos los continentes. Quedamos particularmente impresionados por la cantidad de destinos que nunca habíamos escuchado en términos de su compromiso con el turismo sostenible.
---
Campeones de la sostenibilidad
Cuatro destinos fueron mencionados por varios de los entrevistados: Bonito en Brasil, Botswana, Copenhague (Dinamarca) y Ol Pejeta Conservancy en Kenia.
Bonito
Para Mariana Madureira, Bonito destaca porque "es un destino natural donde la gestión de impactos se toma en serio. Los empresarios locales cuidan de las increíbles atracciones naturales evitando que el lugar sea tomado por la agroindustria, como ha sucedido con gran parte del estado".
Mariana te recomienda este caso de estudio para aprender más sobre Bonito.
También Kelly Bricker incluyó a Bonito como uno de los cuatro destinos que más le han impresionado en lo que va del año, debido al "compromiso por desarrollar productos ecoturísticos de alta calidad" y por "conservar la calidad mediante la reducción de impactos ambientales".
Botswana
A los ojos de nuestros panelistas Fiona Jeffery y Hitesh Mehta, Botswana se encuentra en este momento entre los destinos más impresionantes en cuanto a su compromiso con la sostenibilidad del turismo.
Jeffery: "El Consejo de Turismo de Botswana ha desempeñado un papel muy estratégico para garantizar que el turismo contribuya al crecimiento económico del destino, combinándolo con el uso sostenible de los recursos turísticos y consiguiendo respaldo a través del compromiso de las comunidades locales e internacionales. […] En mi opinión, han demostrado un sobresaliente liderazgo con integridad y compromiso, y excelentes habilidades de planificación consultiva con todas las partes interesadas".
Metha: "A pesar de que han tomado la ruta del destino de lujo (que puede ser desaprobada por algunos), su compromiso con la sostenibilidad es evidente por sus acciones en la práctica. Prohibieron la caza después de muchos años de promocionarla [… y] ahora han establecido su sistema de clasificación de eco-hoteles – El Sistema de Certificación Ecoturístico de Botswana, diseñado para fomentar y respaldar el comportamiento ambiental, social y culturalmente responsable de las empresas turísticas, y garantizar que ofrezcan productos de calidad eco-amigable a los consumidores".
Copenhague
Copenhague es un "modelo de sostenibilidad", que Amine Ahlafi considera impresionante por su abundancia de bicicletas, certificaciones de sostenibilidad, eco-vecindarios, eco-construcciones, reciclaje de residuos, enormes parques eólicos en el horizonte, así como por sus opciones de alimentos orgánicos y de comercio justo.
También Carole Favre menciona "sin ninguna duda" a Copenhague como un líder en sostenibilidad (turística), y recomienda leer este artículo sobre la estrategia de un destino de ciudad.
Ol Pejeta Conservancy
Fiona Jeffery se refiere a Ol Pejeta Conservancy en Kenia como "un modelo de negocio único y líder de conservación moderna con innovadoras prácticas de gestión del uso y conservación de la tierra". Ella lo considera "un modelo positivo para otras áreas de conservación en Kenia, Tanzania y Etiopía".
Otro entrevistado que mencionó a Ol Pejeta Conservancy fue Richard Hammond: "porque están desarrollando una estrategia de turismo junto a otras empresas generadoras de ingresos". Él recomienda ver este video sobre la historia de Ol Pejeta.
Destinos que han impresionado en el 2017
Los siguientes destinos han impresionado a nuestros panelistas este año gracias a su compromiso con el desarrollo del turismo responsable y sus prácticas de sostenibilidad. Algunos de ellos están bien posicionados y son reconocidos por su liderazgo en turismo sostenible, mientras que otros son destinos prometedores: nuevas incorporaciones al mapa de sostenibilidad. En orden alfabético:
América
Bonito(Brasil)
Canadá: The Leap Manifesto
Costa Rica
Ecuador
Great Bear Rainforest (Canadá)
Greensburg (Kansas, UU.)
Huatulco(México)
Isla Anna Maria (Florida, EE.UU.)
Jackson Hole (Wyoming, EE.UU.)
Klemtu (Canadá)
Nicaragua
Pijao (Colombia)
Riviera Maya (México)
Santuario de Fauna y Flora Otún Quimbaya (Colombia)
Sierra Gorda(México)
Tucum(Brasil)
---
Europa
Asturias (España)
Austria
Azores (Portugal)
Cinque Terre (Italia)
Copenhague (Dinamarca)
Isla de Zante (Grecia)
Lanzarote (España)
Liubliana (Eslovenia)
Noruega
Parque Nacional Picos de Europa (España)
The New Forest (Reino Unido)
Val Poschiavo (Switzerland)
---
Asia & Oceanía
Dubái (Emirates Árabes Unidos)
Hoi An (Vietnam)
Isla de Jeju (Corea del Sur)
Luang Prabang (Laos)
Parque Nacional Doi Inthanon (Tailandia)
Timor Oriental
Samoa
Taiwán
---
África
Botswana
Marrakech (Marruecos)
Ol Pejeta Conservancy (Kenia)
Seychelles
---
Los siguientes panelistas han contribuido:
Albert Teo, Amine Ahlafi, Antonio Abreu, Ariane Janér, Brian Mullis, Carole Favre, Dagmar Lund-Durlacher, Eduard Mueller, Fiona Jeffery, Gavin Bate, Glenn Jampol, Hitesh Mehta, Jonathan Tourtellot, Karen Kuhl, Kauahi Ngapora, Kelly Bricker, Lonneke de Kort, Louise Twining-Ward, Maria Lougari, Mariana Madureira, Masaru Takayama, Michael Stober, Natalia Naranjo, Paul Rogers, Paul Verity, Peter Richards, Philippe Moreau, Rachel Dodds, Richard Hammond, Ronald Sanabria, Soulinnara Ratanavong, Steve Noakes, Tricia Barnett, Vicente Ferreyra Acosta.
Más información sobre el panel aquí.
rxbuywithoutprescriptiononline.net/zocor.html
buy Valtrex online
buy Premarin online
42 Destinos Cuyo Liderazgo en Sostenibilidad ha Impresionado en 2017