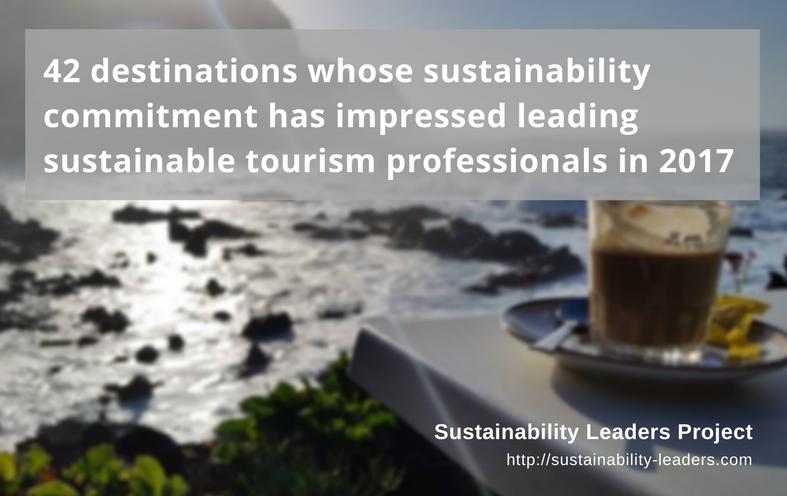 Some say that truly sustainable destinations are impossible, and perhaps they are right. But that doesn't mean that cities, regions and countries shouldn't aspire to develop and manage tourism in a way which is as sustainable as possible. But how to do this, where to begin?
We asked our virtual expert panel for advice on destinations whose sustainability commitment has impressed them this year, and which might serve as examples for others to follow.
The question:
Which destinations impressed you the most this year so far, in terms of their commitment to sustainability – and why?
Our panel was entirely free in choosing their answers (and panelists could also skip this question entirely if, for example, they did not witness any noteworthy sustainability improvements in destinations).
Interestingly, those who did respond named destinations on every continent. We were particularly impressed by how many of those destinations we had never heard of in terms of sustainable tourism commitment.
---
Sustainability champions
Four destinations were mentioned by several respondents: Bonito in Brazil, Botswana, Copenhagen (Denmark) and Ol Pejeta Conservancy in Kenya.
Bonito

For Mariana Madureira, Bonito stands out because "it's a nature destination where impact management is taken seriously. The incredible natural attractions taken care [of] by local entrepreneurs avoid the place [from] being taken by the agro-industry, as it has happened to great part[s] of the state."
Mariana recommends you this case study to learn more about Bonito.
Also Kelly Bricker included Bonito as one of the four destinations that have impressed her the most so far this year because of the "commitment to developing high quality ecotourism products" and "maintain[ing] quality through reducing environmental impacts."
Botswana
In the eyes of our panelists Fiona Jeffery and Hitesh Mehta, Botswana is among the most impressive destinations right now in terms of commitment to tourism sustainability.
Jeffery: "Botswana Tourism Board have played a very strategic role ensuring tourism contributes to the economic growth of the destination whilst combining it with sustainable use of tourism resources and supported this through the engagement of both local and international communities. […] To my mind they've shown outstanding leadership with integrity and commitment and excellent consultative planning skills with all stakeholders."
Metha: "Even though they have taken the path of high-end destination (which may be frowned upon by some), their commitment to sustainability is evident with their actions on the ground. They banned hunting after many years of promoting it […and] have now established their eco-hotel rating system – The Botswana Ecotourism Certification System, designed to encourage and support responsible environmental, social and cultural behavior by tourism businesses and make sure they provide a quality eco-friendly product to consumers."
Copenhagen
Copenhagen is a "model of sustainability", which Amine Ahlafi finds impressive for its abundance of bikes, sustainability certifications, eco-neighbourhoods, eco-constructions, waste recycling, huge wind farms on the horizon as well as organic and fair trade food options.
Also Carole Favre names Copenhagen "without a doubt" a leader in (tourism) sustainability, and recommends reading this article about the city's destination strategy.
Ol Pejeta Conservancy

Fiona Jeffery refers to Ol Pejeta Conservancy in Kenya as "a unique and leading business model for modern conservancies with its innovative land use and conservation management practices". She considers it "a positive model for other conservancies across Kenya, Tanzania and Ethiopia."
The other respondent mentioning Ol Pejeta Conservancy is Richard Hammond: "because they are developing a tourism strategy that sits alongside other income generating businesses." He recommends watching this video about the story of Ol Pejeta.
---
Destinations which have impressed in 2017
The following destinations have impressed our panelists this year through their commitment to responsible tourism development and sustainability practices. Some of them are well-established and known for their sustainable tourism leadership, while others are rising stars – new additions to the sustainability map. In alphabetical order:
Americas
Anna Maria Island (Florida, USA)
Bonito (Brazil)
Canada: The Leap Manifesto
Costa Rica
Ecuador
Great Bear Rainforest (Canada)
Greensburg (Kansas, USA)
Huatulco (Mexico)
Jackson Hole (Wyoming, USA)
Klemtu (Canada)
Nicaragua
Otún Quimbaya Fauna and Flora Sanctuary (Colombia)
Pijao (Colombia)
Riviera Maya (Mexico)
Sierra Gorda (Mexico)
Tucum (Brazil)
Europe
Asturias (Spain)
Austria
Azores (Portugal)

Cinque Terre (Italy)
Copenhagen (Denmark)
Lanzarote (Spain)
Ljubljana (Slovenia)
Norway
Picos de Europa National Park (Spain)
The New Forest (United Kingdom)
Val Poschiavo (Switzerland)
Zakynthos Island (Greece)
Asia & Oceania

Doi Inthanon National Park (Thailand)
Dubai (United Arab Emirates)
East Timor
Hoi An (Vietnam)
Jeju Island (South Korea)
Luang Prabang (Laos)
Samoa
Taiwan
Africa
Botswana
Marrakech (Morocco)
Ol Pejeta Conservancy (Kenya)
Seychelles
---
The following panelists have contributed:
Albert Teo (Malaysia), Amine Ahlafi (Morocco), Antonio Abreu (Portugal), Ariane Janér (Brazil), Brian Mullis (USA), Carole Favre (UK), Dagmar Lund-Durlacher (Austria), Eduard Mueller (Costa Rica), Fiona Jeffery (UK), Gavin Bate (UK), Glenn Jampol (Costa Rica), Hitesh Mehta (Kenya), Jonathan Tourtellot (USA), Karen Kuhl (Nicaragua), Kauahi Ngapora (New Zealand), Kelly Bricker (USA), Lonneke de Kort (Netherlands), Louise Twining-Ward (USA), Maria Lougari (Greece), Mariana Madureira (Brazil), Masaru Takayama (Japan), Michael Stober (Germany), Natalia Naranjo (Colombia), Paul Rogers (Australia), Paul Verity (Australia), Peter Richards (Myanmar), Philippe Moreau (Portugal), Rachel Dodds (Canada), Richard Hammond (UK), Ronald Sanabria (Costa Rica), Soulinnara Ratanavong (Laos), Steve Noakes (Australia), Tricia Barnett (UK), Vicente Ferreyra Acosta (Mexico).
More about the panel here.
---
Enjoyed this snapshot of expert views on destinations that have shown leadership towards tourism sustainability in 2017? Spread the word!
Valtrex no prescription
rxnoprescriptionrxbuyonline.com/lipitor.html
Buy Zoloft online
42 Destinations Whose Commitment to Sustainability Has Impressed Sustainable Tourism Professionals in 2017