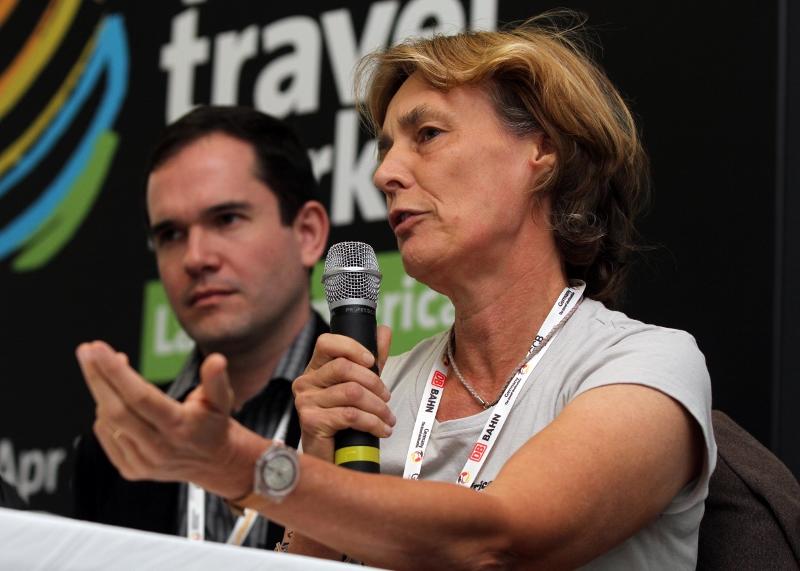 Ariane Janer, a long time ecotourism leader and sustainable business advocate in Brazil, South America, in this post reflects on the key changes in ecotourism and sustainable tourism discourse and practice during her over 25 years of experience as tourism professional. She also discusses which trends and questions will occupy the ecotourism community in the near future.
Ariane, looking back on over 25 years in the sustainable tourism industry, what major changes have you noticed?
The discussion has changed from the ecotourism niche to sustainability in tourism, which is a good thing. After all, mainstream tourism adopting sustainable practices, can have a significant impact on the health of destinations. On the other hand  ecotourism will continue to lead by example and be a source for innovation in tourism.
As with ecotourism, sustainable tourism is now also suffering with concept issues. Investing in reducing environmental impacts of tourism is very laudable and important, but sustainability also means taking care of people. So working conditions, a fair wage and working with the community are also important. I remember staying at a big resort hotel during a conference. You could opt for not changing your towels and sheets and get a voucher of US$ 5 per day. Basically staff didn't enter your room (not even to make up your bed) and when I probed, I learned the effect was that they laid off staff. I wrote a complaint to the hotel group and never got an answer.
We tend to forget how technology has  greatly changed tourism and the way products and destinations interact with tourists. In 1991, everything was still slow : fixed phones, faxes, floppy disks, film roll cameras, Windows 3.1. The World Wide Web was introduced and in Brazil the first TCP/IP connection established using very unreliable telephone lines. Today you use your mobile to get the word out on social media and wet appetites with camera trap footage and drone eye views.
And, of course, technology today also gives us many options for measuring and reducing our environmental impacts. But there are also unwanted side effects. Location based media can help poachers find valuable animals and tourists impatient to get photo opportunity may speed to get there.
The focus has also shifted from training people, to getting hotels and tour operators to adopt sustainable practices and nudging destinations to recognize the importance of sustainable development.
We have moved from basic sustainable tourism guidelines to voluntary standards. And within standardization the old discussion about process vs performance has now led to process standards with performance indicators. Through the efforts of the GSTC, there is finally an alignment of the different standards.
Looking to the next 25 years, how can we continue to move sustainable tourism from niche branch to industry standard?
I think "thinking about the environment" in tourism is already quite mainstream. There are already ISO guidelines based on the environmental part of the GSTC baseline (ISO/TS – 13811:2015). Tripadvisor is making it easier for the general public to make better choices through their Green Leaders program. The only worry here is, whether this will boost the number of tourism businesses implementing the standards and getting certified on the basis of third-party audits. What could actually happen is that getting Green Leader status is more interesting than paying for an audit.
How we move forward is intimately linked to how the world adjusts itself to the importance of sustainability, for assuring healthy living space for all, not just in tourism. We will need to rethink what growth is and how we can be better consumers, including in our tourism choices. Changing our attitudes will be difficult.
How often should we travel faraway to see beautiful places, that need our money to remain beautiful? Why aren't we traveling closer to home? Shouldn't we connect more to places than just collect them ? How will tourism adapt to climate change consequences?
Food, the taste of a place, will also gain importance. There is also already a big discussion on food waste,  food's water and carbon footprint.
More and more, we are realizing that "the visited" are not only local communities of people. What about animals, often the key attraction in tourism? They also have inner lives and feelings and need a healthy living space.  How do the ethics work? Elephant rides, canned hunting, orca entertainers are now controversial issues. Will rewilding increase dangerous encounters between humans and animals and how do we deal with that? Are we interfering too much when we use playback to attract birds? Are  nature programs  with daring hosts on tv and all those viral videos stimulating the wrong kind of interaction with the natural world?
How will technology enhance experiences of tourism?  How can communities use it to manage their destination? How will it affect conservation and wildlife watching? Will there be a division between highly staged experiences and the real thing?
Learn more about Ariane Janer and her pioneering sustainability work in Brazil in our interview.
Ariane Janer on Changes and Trends in Ecotourism and Sustainable Tourism