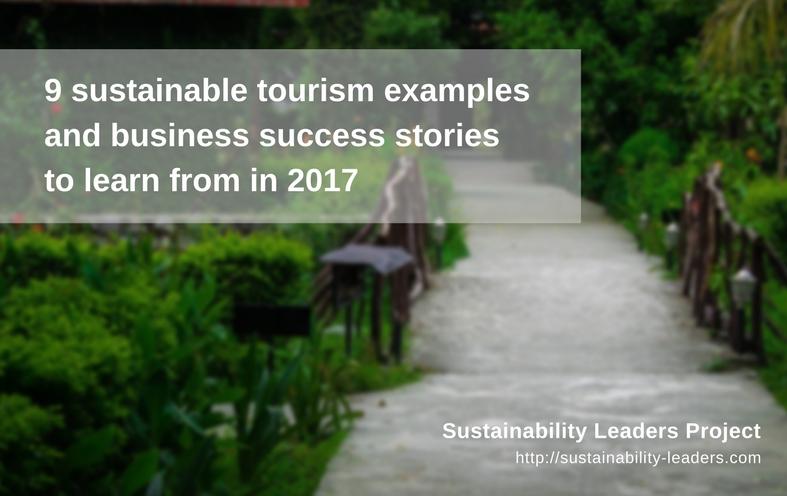 Sharing sustainable tourism examples and success stories is what the Sustainability Leaders Project is all about. Last week we introduced 42 destinations whose commitment to sustainability has impressed our panel in 2017, and which (among the many other destinations working towards a more sustainable tourism) might serve you as inspiration.
This time we present you 9 tourism businesses around the world whose sustainability practices our interviewees have found especially noteworthy during the last three years. They are of course only a tiny fraction of the many innovative businesses now embracing sustainability criteria in their operations – and hopefully we'll be able to share many more good practice examples with you in the future.
In the meantime, here's what makes those businesses so special, in the eyes of leading tourism professionals.
9 sustainable tourism examples and businesses success stories:

Dolphin Discovery Centre in Bunbury, Australia
Rancho Margot, Costa Rica
Wilderness Scotland
Reality Tours and Travel, India
Lapa Rios, Costa Rica
Uakari Lodge in the Mamirauá Reserve, Brazil
Hacienda Tres Rios resort, Mexico
Ecotricity, UK
Crystal Creek Meadows hotel, Australia
---
Dolphin Discovery Centre, Western Australia
Albert Teo: "Dolphin Discovery Centre in Bunbury […] is a private sector-led NGO with membership from the local community, most of whom are volunteers. The Centre uses tourism income to support its conservation, education and research activities, and attracts business sponsorship and government infrastructure support as the major regional tourism attraction. They also have a strong local volunteer group and run the largest international volunteer program in Western Australia.
The Centre runs a strong community engagement and education program through weekly newspaper columns, environmental commentary and school education programs. Where there is strong community support there is a greater chance of sustainability when development pressures based on politics and profits come from outside.
The Centre plays a significant role in marine-related government environmental assessment (EPA) approval processes and successfully lobbied for the establishment of a sanctuary zone within the busy port. This is indicative of the research- based control systems that have been put in place."
---
Rancho Margot, Costa Rica
Eduard Mueller: "My favorite business is Rancho Margot in Costa Rica, which is sustainability in practice, not theory. The majority of food consumed is produced organically at the farm. Visitors learn about sustainability and can actually see how it is achieved."
---
Wilderness Scotland
Gavin Bate: "As for companies which impress me with their sustainability credentials, Wilderness Scotland is particularly thoughtful and pro-active in its model, which actively supports local economies and communities, plus has a strong environmental ethic.
They won the award for green tour operator of the year in 2014, but one senses that behind the scenes at this company is a real belief and passion for their destination and the people and wildlife of this wonderful and unique land."
---
Reality Tours and Travel, India
Graham Miller: "The WTTC T4T [World Travel & Tourism Council Tourism for Tomorrow award] has some great case studies. My personal favourite is probably Reality Tours and Travel. The founder of the company, Krishna Pujari, is a real hero for me.
Krishna's work at Reality Tours has an immediate impact every day. If he does his job well, then tourists come to a part of the world that they would never think of coming, and someone in a slum in Delhi eats. That kind of direct and immediate impact has huge appeal to me and provides a frequent reminder to me to ensure I can always see the route to impact for my work."
---
Lapa Rios Lodge, Costa Rica
Glenn Jampol: "One place that really drives home the splendid combination of quality, experience, place and responsibility (all of which are ingredients to sustainability) is the Lapa Rios Lodge on the Osa Peninsula of Costa Rica, which is owned by Karen Lewis (a Board member of GEN). They lead not only by the ongoing authentic and aesthetically beautiful location and design, but also by their commitment to the guidelines established in Costa Rica by the Certification for Sustainable Tourism (CST).
The CST demands a complete involvement in the biological and physical sustainability, the socio-economic involvement with the employees and the community in which they are working, the education and training of their employees and their guests alike through interpretation and good practices, and the overall low impact service to their clients through educational materials, an aware and proud staff and a sense of pride."
---
Uakari Lodge, Brazil
Mariana Madureira: "Uakari Lodge – I absolutely love the way this floating hotel manages to use the river and land resources surrounding it in a circular and sustainable way. Developing and keeping all the technology isn't cheap and it was possible thanks to government support.
The next step is to allow the local community to run it 100% by 2022. Now the management is split between Mamirauá technicians and locals that have been trained since 2013. The tourism program exists since 1997, but 2013 is the year when the "10 years transition" has started."
---
Hacienda Tres Rios Resort, Mexico
Rachel Dodds: "I was really impressed by the Hacienda Tres Rios resort in Mexico, near Playa del Carmen. They hire all local people and pay fair wages, and are also really working to be ahead of the curve when it comes to protecting the cenotes and diverting waste from landfill, which is a huge issue there."
---
Ecotricity, UK
Richard Hammond: "As judge of the Eurostar Ashden Awards for Sustainable Travel in 2014, I was impressed with the work Ecotricity has done to help kick-start the uptake of electric cars in the UK. It has created a new 'Electric Highway' of extensive charging points across the UK motorway system, which has dramatically extended the geographical reach of electric vehicles."
---
Crystal Creek Meadows Retreat, Australia
Susanne Becken: "There are so many good example that I find it hard to pick one. If I have to I will probably refer to Chris Warren's Crystal Creek Meadows eco-accommodation in New South Wales, Australia. Chris is doing everything possible under the sun to make his business more sustainable, and – importantly – at the same time enhance the experience of his guests. A very powerful combination."
---
Tip: Through our Information Scout service we can help you gain and maintain competitive advantage by providing overviews on latest thinking and research on topics linked to the sustainability of tourism businesses and destinations.

---
Enjoyed our post on 9 sustainable tourism examples and businesses success stories to learn from in 2017? Spread the word!
9 Sustainable Tourism Examples and Business Success Stories to Learn From in 2017