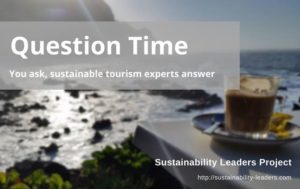 Do you have a question about tourism and sustainability or would like some advice on a tricky issue linked to sustainable tourism which you have been struggling with? Our virtual expert panel of tourism business managers, advisors, entrepreneurs and researchers might be able to help.
How does it work?
Simply send us your question through the form below. If we think your question is a good fit for the panel, then we'll have them answer it!
Who forms part of the virtual expert panel?
Members of the virtual expert panel are leading tourism and sustainability professionals, including entrepreneurs, managers, researchers and consultants around the world, who have been featured in our interview series.
Which question can I ask?
Anything linked to tourism and sustainability is welcome, but please keep it professional and to the point.
---