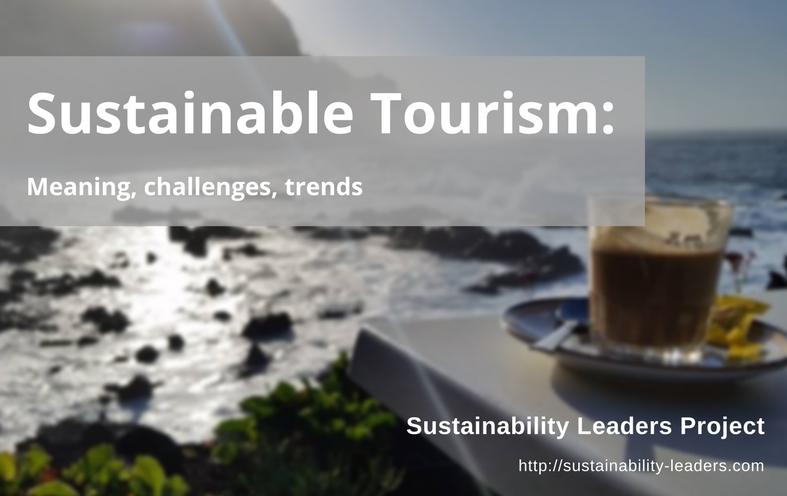 Sustainable tourism is a term very often used in literature, but – especially for newcomers to the tourism industry – it is not always clear what it actually means. If that's your case as well, then you might find the following snapshot of expert views on sustainable tourism useful.
All quotes are from our interviews with leading tourism professionals. Reading their stories and learning from their experiences is by far the best sustainable tourism "education" we can think of, especially for busy entrepreneurs, researchers and business managers with no time or resources to participate in the ever growing number of conferences.
---
Sustainable tourism: what does it mean?
"I think sustainability is the basis for the development of any project. The most important economic activity in our destination is tourism. For this reason it is important that actual and future businesses consider the three elements of sustainability: economic, sociocultural and environmental. The environmental problems that affect our destination today are the consequence of traditional tourism practices. If we want to solve those issues, we need to switch to sustainable tourism."
"For us as Maori, sustainability is about having an inter-generational mindset and doing what we can today to ensure that our future generations can experience the same things that we can experience today."
"As Immanuel Kant once said, 'do as you would be done by'. Respect your social and natural environment. Follow your heart and use common sense."
"Any tourism activity that is not providing and ensuring direct financial benefit to communities from where tourism money is being generated is not sustainable tourism."
"Sustainable tourism is tourism that respects the natural, cultural and social environment, extolling the values of the region and, at the same time, allows you to enjoy the essence and authenticity of a place and its people. Sustainable tourism also means that the people visiting us do so with an attitude of integration and respect for the environment."
"Sustainable tourism is the way forward. It is a way in which tourism can thrive as an industry, whilst taking into account the effects it has on the community both socially and economically, and the environmental impact of the development of the industry as well. In order for tourism to be sustainable, we need to ensure that all these areas also develop or progress positively, along with the growth of the industry."
"To me, sustainable tourism is a tourism that is respectful and non-invasive, where the important thing is to enjoy your surroundings while leaving the smallest footprint possible."
"Sustainability and sustainable tourism means ensuring that whatever we do today does not have a negative impact on the Island, the reef or the greater planet for tomorrow. It means leaving the world a better place than we found it."
---
Are sustainable and responsible tourism the same?
"Simple: responsibility is the process and attitude, sustainability is the goal. Nobody is sustainable, but I don't want to do business with someone that is irresponsible."
"Sustainability has a scientific meaning, so I have always talked about the 'transition towards sustainability' recognising that nobody actually achieves sustainability. However, we can identify components of sustainability and work to achieve those – such as safe water, elimination of poverty, no hunting etc."
"My concern with the concept of 'responsibility' is that this is too flexible and open to interpretation – hence my preference for thinking about sustainability, albeit recognising this is a journey, not a single destination."
"In its simplest form responsible tourism has to be sustainable and sustainable tourism has to be responsible."
---
Sustainable tourism trends
Especially in popular city destinations in Europe, the sustainability of tourism is now a major area of concern. Overcrowding, or overtourism, are now terms frequently used – almost synonymous to unsustainable tourism. This means that the tourism value chain will receive much more scrutiny and attention.
There are other trends impacting tourism sustainability, both positively and negatively, and we'll track those for you through our interviews.
---
Sustainable tourism challenges
If pictured as a journey, then those pursuing sustainability in tourism have a lot of roadblocks and hurdles to overcome. We discuss those in our special series on sustainability challenges. Including:
---
Thoughts:
In our view, sustainability in the tourism context is like quality and safety: not always there but almost always expected, and certainly in need of being monitored and measured.
Cities and regions have been slow to understand this and now find themselves under pressure to put tourism sustainability observatories and destination health checks in place. Often, the tourism 'topic' has been left to business and marketers, united by a sole interest in attracting more visitors. That's now changing (if interested in how destination marketing and DMOs are affected by this, read this article by The Place Brand Observer).
There is the inter-generational aspect, of course, and that's perhaps where the term responsible is most important. But this applies to every human activity with the potential to negatively impact the natural environment. Indeed, behaving like a responsible tourist or corporate citizen is desirable, but cultural norms and expectations vary, which makes responsibility a tough one to measure, especially in the multi-cultural and global phenomenon that is tourism.
From a business point of view, ensuring the sustainability of tourism operations is common sense, especially since the "product" – the tourism experience – so much depends on it. Unless you are in it for short-term financial benefits, in which case alert destination managers will have to make sure that – as part of the destination – you follow the rules.
Lastly, as mentioned by various interviewees, sustainability in tourism is a strategic objective, not a condition anyone can fully achieve. So next time you hear claims of a "sustainable" destination or hotel, know that this usually means that the destination or business has embarked on the sustainability journey, by measuring, monitoring and improving its tourism operations according to environmental, social and commercial criteria.
Oh, and here the 'official' definition:
Sustainable tourism, according to the UNWTO, is "tourism that takes full account of its current and future economic, social and environmental impacts, addressing the needs of visitors, the industry, the environment and host communities."
---
Enjoyed this snapshot of expert views on the meaning of sustainable tourism, challenges and trends? Spread the word!
Sustainable Tourism Explained: What it Means, Challenges and Trends