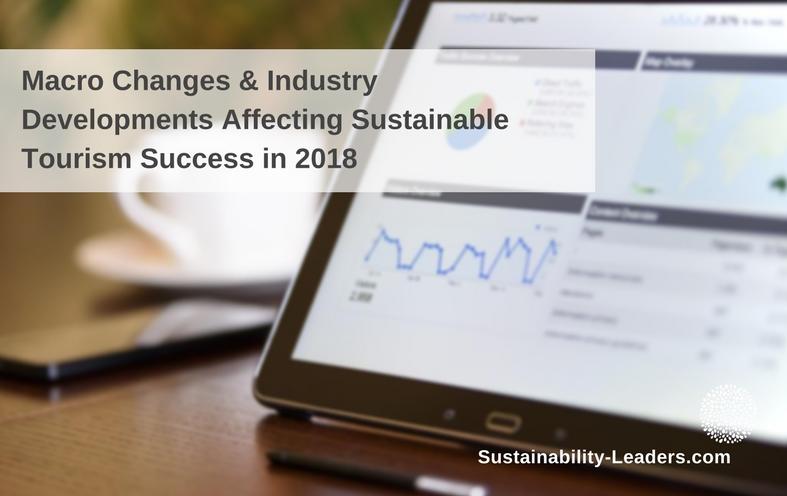 Which industry developments and macro changes are the most likely to impact the success of sustainable tourism initiatives in 2018?
Following our earlier post summarizing expert views on 5 sustainability trends and "hot topics" in tourism to watch out for in 2018, here's what our panel members – tourism and sustainability researchers, advisors and managers – predict to be the most important changes and developments in tourism on an industry-wide, macro level.
1. Travel boom to continue
Perhaps the most important macro development – both for tourism and sustainability – is that the Asian market will be at the center of a continued boom in travel and tourism. This will lead to much stronger pressure to develop sustainable tourism strategies and initiatives.
For Inge Huijbrechts the key is to get the inbound travellers from emerging markets like India and China involved in sustainability discussions and actions. The timing for this is good because most travellers will to some extent face or hear about the very unsustainable state of tourist destinations.
As Albert Teo observes:
"More consumers in Asia will join the bandwagon of travel and tourism, as airline competition intensifies and airfares drop. This will affect the quality of the holiday experience, degrade natural resources and stretch facilities and infrastructure capacity to the limit."
---
2. Demand for transformational, experiential travel – and stories

Glenn Jampol predicts the group of travellers looking for experiences such as human warmth, relationships and connections through stories to become the largest segment in the near future. In this new scenario, sustainable tourism with its off-the-beaten-path offers, according to him, will enjoy a unique, competitive advantage.
Jampol's reference to "the desire of the younger generations to find more authentic and grounded experiences" is echoed by Florie Thielin, who observes a growing thirst for transformational travel experiences, namely "regenerating oneself in nature, escaping to the other end of the world, isolating yourself in a monastery… travellers look for meaningful 'transformational experiences' more than ever."
Raj Gyawali, based on his observations as tour operator in Nepal, finds it likely that experiential travel – "trips that are more to do with touch, taste, experience, memories rather than just a tick box and some iconic pictures" – will reach the critical mass required for an industry shift within the next two years.
The consequence is that more and more travel brands want to become experience platforms, adds Brian Mullis [Destination Sustainability]:
"Emphasis is being placed on developing and delivering personalized, inspirational, and transformative experiences. More travellers want to explore new places, immerse themselves in local cultural heritage, make meaningful connections with local people, push their physical limitations, challenge long-held personal beliefs, and become more informed global citizens. There is an art to developing travel experiences that enable travellers to truly grasp the culture, heritage, and people of the local communities they visit."
If demand for transformational and experiential travel experiences is growing as predicted by our panel members, then storytelling will be key to reaching those new audiences and customers. But it will also be a massive opportunity "to build sustainability learning into these experiences and tourist stories", as Gianna Moscardo puts it.
Greenwashing is always a risk associated with sustainability communication in tourism and someting to be avoided, urges Natalia Naranjo [COMUNITUR], who would like to see a more sophisticated use of sustainability in tourism discourse.
---
3. Smart(er) travel through technology

It comes as no surprise that technological advancements will impact the development of tourism and as such likely to leave a strong mark in the 2018 sustainable tourism agenda.
The sharing economy continues to offer opportunities, such as "revitalizing rural tourism and by extension rural economies" (Jonathan Tourtellot). At the same time, sharing platforms such as Airbnb are likely to face stronger regulations.
Richard Butler in particular foresees more restrictions on places and times of visits, leading to a need to book visits in advance, as already practiced in popular destinations such as Park Güell in Barcelona.
Smart(er) destination management through monitoring and basic quantitative indicators (Ariane Janér) will continue to be pushed up on the agenda especially of destinations threatened by overtourism.
---
4. Sustainability spotlight: role of transport

Transport required for serving tourism, including travel to and from the destination, is sometimes regarded a necessary evil and considered sometimg not easy to change. According to our panel, pressure on transport providers to participate more actively in sustainable practices is going to increase this year.
In the words of Rachel Dodds [Sustaining Tourism], there is "increased concern globally over the impact of trucking and aviation as a form of transport, and this focus on carbon emissions will also impact the tourism industry…"
At the moment, having international aviation exempt from the Paris Climate Agreement is a serious shortcoming and certainly does not help to reduce greenhouse gas emissions globally, stresses Paul Peeters.
---
Enjoyed this snapshot of expert views on tourism industry developoments likely to affect the sustainability of travel in 2018? Share and spread the word!
rxbuywithoutprescriptiononline.com/prednisone.html
Kamagra without prescription
buywithoutprescriptiononlinerx.com/amitriptyline.html
4 Tourism Industry Developments Likely to Impact Travel Sustainability in 2018