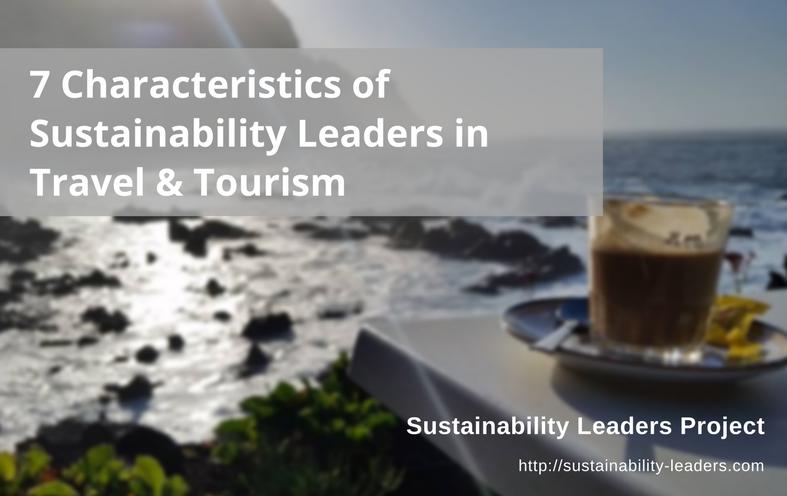 What makes a sustainability leader? Which leadership characteristics or traits are required to gear a tourism business or destinations towards sustainability? Having interviewed over 100 leading tourism professionals, we think it is about time to take a look at leadership itself. And who would know more about this than our interviewees.
What characterizes a sustainability leader in tourism?
Here a few of our favorite answers to the question of what characterizes a sustainability leader in tourism:
Beatriz Barreal, Sustainable Riviera Maya, Mexico:

A sustainability leader needs to be: generous, visionary, flexible, adaptable, very ambitious on long term changes, with great certainty in life itself, able to work as a team, good communicator and conciliator, with long term vision, and… in love with life!
Christopher Luxon, former CEO Air New Zealand:
We're a sector made up of a large number of very small operators, as well as several very large players. And we're all dependent on the performance of each other, both from a visitor satisfaction and sustainability perspective. So collaboration is vital.
We do a very good job of collaborating in terms of marketing New Zealand as a destination and we're seeing the benefits through the growth we're achieving. However we're not yet achieving the same benefits of collaboration with regards to sustainability.
So sustainability leadership in tourism, in our country, will be characterized by someone who first demonstrates best practice within their own business, and then brings the wider sector together to achieve improved tourism-wide performance.
Fran Hughes, International Tourism Partnership, UK:
Work in industry. Get to know the challenges and opportunities from the inside. But don't forget to keep abreast of the broader issues for business, be it through academic study or a close eye and engagement with other businesses, sectors, academics and thought leaders. The combination of these equips you with the knowledge to understand the challenges, and that sustainable development is the only real business option going forward.
Geoffrey Wall, University of Waterloo, Canada:

Leadership in any area requires a willingness to empower others, an ability to listen as well as suggest what should be done. It requires early recognition of needs / opportunities and a perspective that turns problems into opportunities. Leaders show commitment and diligence but also allow time for reflection.
In the context of sustainability, both depth and breadth is required. It is desirable to be an expert in something, so that one has insights pertaining to a specific field than can be offered and shared. At the same time, it is important to have a broad perspective and to be able to put one's knowledge in context.
For example, although a tourism specialist, my most interesting and probably useful work has been in the exploration of such themes as coastal zone management, community development, a biodiversity strategy, ecoplanning, heritage planning, and indigenous economies.
John Elkington, Volans, UK:

Many books have been written on this, including by me! Let me boil my answer down into just three key skills. Leaders have to be able to see around corners. They have to be able to connect with people who have important contributions to make, even if they don't vote or (in the private sector) invest in a given industry or company. And they have to work out when to take a stand on a critical issue.
Initiatives like C40, convening the mayors of cities around the world, show how this can be done—and done successfully.
Paul Rogers, Lux Dev Consultant, Australia:

Extensive industry experience, versatility, strong listening, negotiation and presentation skills, a great sense of humor and large doses of humility and patience.
Ronald Sanabria, Rainforest Alliance, Costa Rica:

Personal commitment, leading by example, perseverance, tolerance, transparency, respect and appreciation for the work of others, commitment to finding common ground—and optimism, always!
---
More on sustainability leadership
London-based think tank and consultancy SustainAbility, together with GlobeScan, each year publishes the GlobeScan/SustainAbility Leaders Report. The longest-running survey of its kind, it has tracked expert opinions on sustainable development leadership for more than 20 years.
In its last (2016) survey, produced in partnership with Sustainable Brands, the team analyzed the viewpoints of over 900 sustainability experts to answer pressing questions, such as:
Which companies, NGOs and national governments do experts believe are leading the sustainability agenda? What key factors set them apart?
Which actors have made the most progress on sustainable development over the last two decades and which organizations face the highest expectations to advance the global agenda?
What are expert recommendations for companies on how to most effectively contribute to the implementation of the Sustainable Development Goals?
The report is available here.
---
Please note that the information and views set out in this article are those of the authors (interviewees) and do not necessarily reflect the official opinion of the organizations they work for.
---
Enjoyed this post on what characterizes a sustainability leader in tourism? Share and spread the word!
What Makes a Sustainability Leader in Travel and Tourism? 7 Characteristics