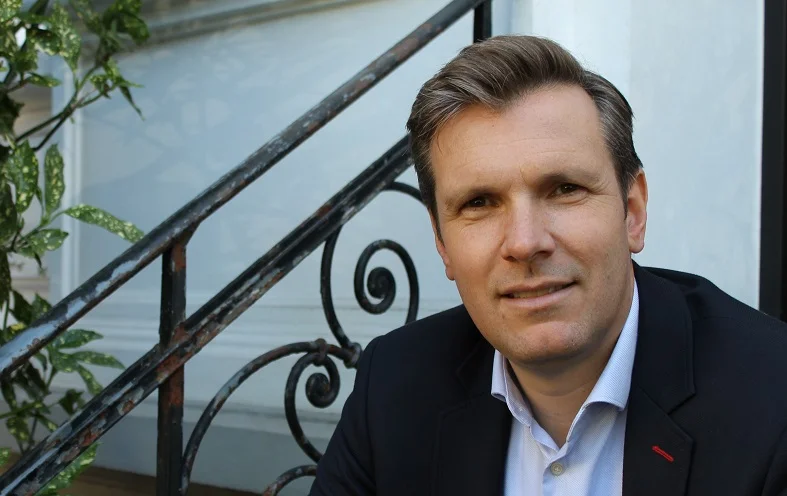 Willy Legrand, Professor at IUBH International University Bad Honnef – Bonn in Germany, in this interview shares his views on sustainability and gives practical tips on how hotel managers and operators can prepare for zero-emission regulations. He also highlights hospitality champions who are particularly innovative with their sustainability initiatives and illustrates why the hotel sector is having such a hard time in becoming more environmentally sustainable and climate-friendly.

Willy, having been involved in research and teaching on hospitality and sustainability for many years, do you remember what first got you interested in the topic?
I grew up on a farm. The careful handling of nature and use of resources such as water and soil and the constant monitoring of weather conditions during planting or harvesting season was part of my everyday life growing up.
I chose to study geography and continued with an MBA with a specialization in Corporate Environmental Management before moving on with my PhD. Ultimately, my desire was to combine my interest and knowledge of the functioning of our environment with the hospitality industry.
Following years of experience working in the hospitality industry, here too I quickly noticed the imperative to carefully handle natural resources; our prime input into all our operations in form of food, energy, water, construction material etc.
How has your view on the hotel industry changed over the years, especially in terms of its sustainability?
The hotel industry has implement myriads of measures pertaining to mitigating environmental impacts over the past two decades. Many of those are certainly good when assessed in isolation and have provided hotel owners and managers with good return on their investments.
Still, the sum of those measures is by far not enough to reach any climate goals. I am still missing the long-term commitment towards a decarbonized industry. Operational budgeting in hotels is a yearly affair and most hotels have a strategic planning horizon of no more than 5 years. However, those hotel companies (alongside with key partners such as investors, owners, architects) are involved in developing and operating hotel properties built with an operational value spreading over 20, 30, 40 or more years.
The argument here is that of those hotels opening today (and there are globally anywhere between 8 and 10 of them per day) which are not carbon neutral, none will reach carbon neutrality in the next 20, 30 or 40 years. At least not before new investments in major renovations are taking place in its core components of heating, cooling, ventilating and insulating.
The industry cannot wait to start in 2030 to shape the hotel sector of 2050. But our current goals are, at best, set to 2025. The 90% reduction in emissions by 2050 as mandated by the International Tourism Partnership needs actions today.
You just launched the World Panel on Sustainability in Hospitality. What is this all about?

The idea behind the HospitalityNet World Panel on Sustainability is to gather leading experts and thought leaders from around the world in the field of hospitality management to respond to controversial ideas or questions facing the hospitality industry.
Faced with increased environmental and societal challenges, the hospitality industry has a responsibility to act and experts, including industry professionals, consultants, governmental and non-governmental experts, researchers and academics, all explore ideas, solutions and strategies required by the industry.
The goal is to get sustainability anchored more than ever into the hospitality conversation and decision-making.
Over the last years, you have gained considerable expertise in climate change mitigation and adaptation strategies in the hospitality sector. Which would be your advice for hoteliers – how to approach this?
In order to keep pace with international efforts to limit global mean temperature (below 2°C and to avoid a 1.5°C) as set by the Paris Agreement, our industry must consider partial decarbonisation by 2030 and a close-to-complete decarbonisation by 2050.
Since a large portion of our carbon emissions are linked to the way we design, develop, construct, refurbish, retrofit as well as heat, cool and ventilate our buildings; the larger picture involves our current supply of hotel properties (see below: existing properties) as well as the construction pipeline (see below: new properties).
The topic is relatively complicated in the hotel world due to the many parties involved in creating the 'hotel' experience. This includes investors, owners, architects, designers, developers, brands, operators that may all be different entities.
To keep it simple, here are a few practical points to consider:
For existing hotel properties (independent owner-operator):
(1) Gathering data & creating a Baseline: The owner and operator of an existing hotel property should have a clear understanding of the property in terms of energy usage. This is about assessing current performance which includes conducting an energy audit with some key performance indicators such as kilowatt-hours per square meter per year (kWh/m2/year), kWh per guest-night and kilograms (or tons) of Carbon Dioxide equivalent emissions per year (tCO2e). For smaller properties, online auditing tools are available to get a start. This can then be the baseline from which to measure progress.
(2) Benchmarking: Hotel owners and operators must continue monitoring performance monthly throughout the year to understand how energy data behave and fluctuate. Benchmarking between properties or within a similar segment or geographical location can facilitate decision making on where or what to improve. Here too, online benchmarking tools can help.
(3) Assessment, operationalization & evaluation: Once a clear snapshot of the property's energy performance has been made, decisions must be made about improvement potential along with return on investment calculations. Since three-quarters of energy consumed in hotels is used towards heating, cooling, ventilating, lighting and providing hot water, those are the areas to tackle. From low-hanging fruits with quick payback period such as installing lighting control systems or replacing lightbulbs to heat recovery systems, isolation improvement and boiler improvement, calculations on the investment required alongside the savings per year in terms of (1) Megawatt-hour, (2) tCO2e and (3) financial should be undertaken and priorities set for the next 5 to 10 years.
(4) Consider Nearly Zero Energy Hotel (neZEH): The EU's Energy Performance of Buildings Directive requires all new buildings to be nearly zero-energy (NZEB) by the end of 2020 and existing buildings to transition towards NZEB by 2050. There are many initiatives helping current hotels towards a transition to neZEH. This is the inevitable future, which needs planning today. In setting priorities and drafting a plan, the hotel owners and managers should consider both investments in energy efficiency and renewable energy towards reaching a positive energy balance.
For new hotel properties (hotel brands):
(1) Since much of the construction pipeline (globally more than 3000 hotels opened their doors last year) involves the large hotel brands, when looking at new property development one critical aspect is the commitment of all partners in creating a carbon-neutral hotel industry. The operators of hotels are not necessarily well placed in influencing any decisions being made during the hotel development stages. As such, the key issue here is to foster better coordination between investors, developers, brands and operators so that sustainability has a chance to be enacted from the very first planning stages such as the initial feasibility. The Hotel for Owners of Tomorrow (HOT) is an example of how such coordination can take place.
(2) Once the parties are at the table, then a carbon-neutral hotel or positive energy balance properties can be planned – they already exist and have made the case for a sound return on investment.
Which hotel brands would you consider leaders in sustainability right now?

Considering that sustainability covers the environmental, social and economic pillars, it is difficult to settle for one example. Rather there are many players in the hotel industry, which are pushing the boundaries of what and how a sustainable hotel can be.
Also, one aspect that I keep stating: we are part of a global industry, and thus, sustainable hospitality does not translate into 'one company trying to do its very best in a given market'. Rather, it is an entire industry that stands up to face the environmental and societal challenges by exploring ideas, solutions and strategies of how to develop future hotels and how to manage operations in a sustainable way.
With this in mind, here is a very short list of interesting and notable companies for specific areas of operations:
The Explorer Hotel Group in southern Germany and Austria shows the world that it is possible to go passive housing with hotel operations, achieve carbon neutrality and provide a decent return to allow for expansion from one property opened in 2010 to a planned 40 hotels by 2027.
The Boutiquehotel Stadthalle in Vienna, Austria is also an interesting case of a hotel achieving carbon neutrality in an urban setting. Similar to Explorer Hotel Group, it uses passive housing and has excellent examples of upcycling within its interior design.
Scandic Hotels is showing the other hotel chains what can be done in terms of accessibility of its properties. Working together with guest with physical disabilities and people with special needs, the chain devised a 159-point standard following the journey of a guest in a hotel.
Inkaterra in Peru is a pioneer in combining hospitality services, nature conservation, education and local community involvement. The seven properties all contribute to sponsoring biodiversity inventories in natural areas where they are located.
Soneva is an interesting brand to watch as it seeks to bridge sustainability and luxury. The company has invested in carbon mitigation projects for more than a decade now, funding windmill installation, tree planting and supplying energy efficient cookstoves. The company has ditched the branded plastic water bottle for reusable glass bottle using their own filtered water also a decade ago, long before the public outcry around plastic waste.
Otherwise, innovation in hotel concepts is always exciting. For example, the modular accommodation Flying Nest by Accor, which uses marine containers as mobile rooms to be assembled where needed – an original way to reduce the construction costs and related emissions of fixed properties.
Treehouse hotels are also interesting to watch. The Resort Baumgeflüster in northern Germany caters to all of us who have a so-called 'nature deficiency syndrome' offering guest a great reconnection to nature.
Which part of making a hotel business (more) sustainable is the most difficult, in your experience?
The greatest hindrance in enacting sustainability is the inherent complexities surrounding ownership, brands and operators in the hotel industry. While ownership and management are often under one roof in the private hotel industry, this is not the case for most hotel chains.
The parties involved in the hotel investment and development are not the same operating the property, which in turn may be running under a brand. Achieving substantial changes, including a clear plan towards carbon neutrality equates to significant investments required in existing or new hotel infrastructure. This is often the responsibility of the investors and/or owner. This may translate in directing capital away from shareholders' short-term gains and growth plans and is thus not particularly popular.
In terms of risk assessment, investing in carbon neutrality is the best option but there is a lot of reluctance due to short-term economics.
The combination of the hotel industry's structural business model and the emphasis on fast economic returns work as the greatest barrier to rapid and necessary changes in light of the climate emergency.
Which are the main trends likely to impact hospitality professionals in the years ahead, linked to sustainability?
I think we are seeing three push factors fostering change in our industry and that will continue to create waves in the years to come.
(1) Consumer-led campaigns have already shown what they can achieve last year by pushing many hospitality companies to consider alternatives or simply ban single-use plastics. It is more likely that we will continue seeing those campaigns across the travel industry calling for a change on any issue from food waste to travel miles.
(2) Governments, via taxation or legislation, will continue to increase the pressure. The many carbon pricing initiatives in place or planned in more than 45 countries or the ban on single-use plastics in the EU coming into effect as of 2021 are two recent examples.
We will see this trend continuing and with the EU's Energy Performance of Buildings Directive which requires all new buildings to be nearly zero-energy (NZEB) by the end of 2020 and existing buildings to transition towards NZEB by 2050, investors, developers, owners, architects, brands and hotel operators may finally sit around one table when planning the future of this sector.
(3) The hospitality industry's self-regulation and voluntary codes of conduct will continue to be popular approaches in dealing with sustainability challenges, but with increased scrutiny from civil society.
Benjamin Lephilibert in his interview emphasized the need to be more proactive regarding the reduction of food waste in hotels. Is this a topic which hoteliers care about, in your experience?
I hope they do! Many hoteliers (and guests) have realized the foolishness surrounding wasting food. Some have yet to understand the implications. Food waste has implications at many levels. From a business point of view, it has direct financial impacts, as waste must be removed from hotels.
Additionally, food wasted has originally been ordered, stored, transferred, prepared, cooked and possibly served. Anyone in the hotel industry would tell you that the sum of all those steps accounts for a large amount, most notably in terms of labour-hours and energy costs.
Of course, the bigger picture includes agricultural inputs, food transformation, cool storage and transportation chains all with extremely large footprints.
Food waste may be due to inaccurate forecasting, bad storage, wrong preparation techniques or inadequate portion size leading to guest plate waste. There is room for improvement in the hotel industry on the topic of food waste.
To your mind, what role does – or could – destination branding and marketing play, in facilitating more sustainable tourism in Europe and elsewhere?
Destination branding plays a role in the extent to which it can use some of its marketing funds to invest in its destination, rather than external marketing events, focusing on bringing more visitors.
In a very connected, instagramable world, pristine destinations will be marketed, whether they want to or not. Additional funds for marketing are then best used in sustainability initiatives at the destination. Cleaning beaches, improving cycling paths, facilitating food networks within the destination, facilitating sustainable trainings for businesses are just a few initiatives which have direct impacts in making the destination more sustainable. This is actually nothing new, it's already happening.
Over the last 15 years, you have dedicated much energy and time to transform the hospitality management curriculum. Why do we need a change, and what progress have you seen so far?
The world in which we live demands hoteliers to not only possess knowledge in the traditional fields of operations, finance, marketing, consumer relationship, technology and communication but also increasingly in stakeholder relationship, environmental management as well as ethical and social responsibility. The hospitality management curriculum has a duty to be at the forefront of all those topics to provide future graduates with all the tools necessary to adequately deal with the changes taking place in the internal and external environment.
Over the past 15 years, my contribution has been toward the new generation of hoteliers. I have installed sustainability programmes in universities in the US, South America, the Middle East and here in Europe.
From the 4 to 5 students who would choose sustainability in hospitality elective course 10 years ago; I now fill classes. The level of knowledge is high – students can tell you that an average EU-based hotel consumes anywhere between 200 and 400 kWh/m2/year and that greywater recycling is not rocket science.
My textbook Sustainability in the Hospitality Industry: Principles of Sustainable Operations is now in its third edition and a useful tool used in class and a great read for the industry.
The coming generation of hoteliers is acutely aware of the environment in which they lead the industry – and this makes me hopeful.
Anything else you'd like to mention?
The millennial youth come with an understanding that the world cannot continue being used the way we use it – and that matters to the future hoteliers as well (or any business for that matter) – so whether it is about future recruiting of staff or engaging with the future customers, choosing sustainability is to stay relevant to both groups.
Thank you, Willy.
Connect with Willy Legrand on LinkedIn.
---
Did you find our interview with Professor Willy Legrand on hotels, sustainability and the future of the hospitality business useful? Share and spread the word!
Willy Legrand on Hotels, Sustainability and the Future of the Hospitality Business