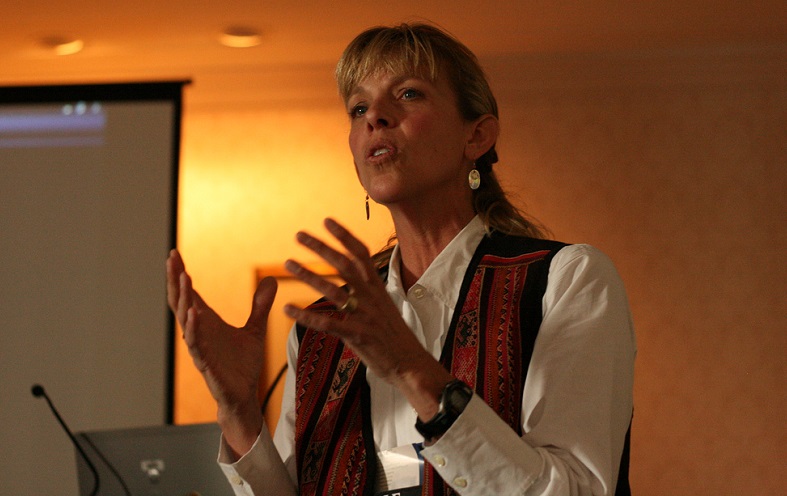 Dr. Bricker offers workshops and keynotes on ecotourism management, sustainable tourism development, community and protected area relations, and sustainable tourism operations.
She is a Professor and Director of Parks, Recreation, and Tourism at the University of Utah, located in the College of Health.
Dr. Bricker serves the boards of the Global Sustainable Tourism Council, the Multi-Stakeholder Advisory Committee of the United Nations World Tourism Organization 10YFP for sustainable development, and the Tourism and Protected Area Specialist Group of the IUCN.
With partners in OARS and her husband, she developed an ecotourism operation called Rivers Fiji.
Dr. Bricker has presented globally, most recently in South Korea, India, Iceland, The Faroe Islands, South Africa, Indonesia, Portugal, Republic of Fiji, China, United States, Canada, and Kenya.
Based in Salt Lake City, Utah (USA)
---
Speaker characteristics:
#passionateconservationist #experiencedacademic #experiencedtravelprofessional
---
Speaking topics:
No "canned" talks, always adjusted to fit audience and organizational needs. Specific expertise in the following areas:
Sustainable tourism and the SDGs;
Ecotourism as a mechanism for health and well-being;
Why we need sustainable food production for sustainable tourism;
Sustainable tourism and protected area management, gateway communities and protected areas;
The value of nature for health and well-being;
The Destination and Industry Global Sustainable Tourism Criteria and Sustainable Tourism.
---
Talks:
1. Sustainable Tourism and the SDGs
This talk identifies the complex connections to sustainable development.  What are the mechanisms for sustainable tourism to best contribute to the Sustainable Development.
Learn the connection between ST to the UN SDGs through case studies and what 'ought' to be happening in this place dependent industry.
2. Effecting Positive Change through Adventure Travel

How does a small whitewater rafting company and local communities protect a river in the remote highlands of Fiji?
This talk describes lessons learned and how one small whitewater rafting company and communities are making a difference to protect their natural and cultural heritage, engaging the next generation of Fijian conservationists, and protecting a unique river corridor.
3. Sustainable Food Production and Sustainable Tourism

How is sustainable tourism linked to sustainable food production? What are the issues with unsustainable animal food sources and impacts to communities?
What is the potential reliance of tourism destinations on the food supply chain?  How is the Global Sustainable Tourism Criteria used to connect aspects of sustainable tourism and food supply chains?
---
Ideal audiences:
Graduate and undergraduate students
Multi-stakeholder audiences in sustainable tourism and protected area management
Community stakeholders interested in sustainable tourism
Conservation organizations interested in utilizing sustainable tourism and ecotourism as a tool for conservation initiatives
---
Recent publications:
Books authored or edited by Dr. Bricker:
Sustainable Tourism & the Millennium Development Goals: Effecting Positive Change
Adventure Programing and Travel for the 21st Century
De-Mystifying Theories in Tourism Research
This Land Is Your Land: Toward a Better Understanding of Nature's Resiliency-Building and Restorative Power for Armed Forces Personnel, Veterans, and Their Families (Sagamore Venture Publishing, LLC).
---
Testimonial:
"We invited Dr. Kelly Bricker to present her work as a keynote speaker at ESTC 2017 in Ansan, South Korea. Highly anticipated, her speech about ecotourism and her extensive experience provided the audience of both academia and practitioners in the field of ecotourism and sustainable tourism throughout the world with new perspectives on doing better with tourism, environment and sustainability."
Dr. Seong-il Kim, President of Korea Ecotourism Society
---
You would like to book Dr Bricker for your event or are interested in organizing a workshop or seminar with her? Please contact us here.