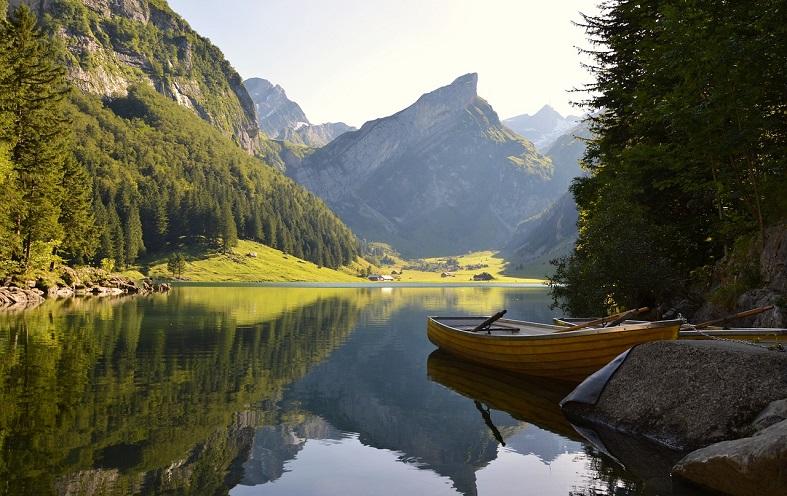 Much loved and admired for its natural beauty, Switzerland is a destination high up on wishlists of travellers around the world, especially and increasingly also Asians. But how does the country's popularity as a tourism destination affect its sustainability? How are its mountain destinations adapting to the consequences of climate change, such as less snow? And how are Switzerland's hotels and other tourism businesses living up to the high expectations of environmentally conscious travellers?
To get answers to those and other questions, we caught up with Swiss tourism leaders and sustainability changemakers.
---
Sustainable destination Switzerland supporters: Swiss Youth Hostels, Swiss Travel System, SWISS and Rhaetian Railways.
---
Switzerland's sustainable tourism changemakers
Who is leading sustainability efforts in Switzerland, making and keeping it attractive as a tourist destination? Below are our interviews with some of the country's responsible tourism champions and changemakers.
---
Kaspar Howald on how Valposchiavo links sustainable tourism and agriculture through smart destination branding

As the Director of Valposchiavo Tourism, Kaspar has been a driving force behind the destination's '100% Valposchiavo' initiative, aimed at connecting agriculture, local trade, and tourism. In this interview, he shares how the initiative works and tells us about its successes and challenges.
Read the interview here
---
Anne-Pierre Ackermann on how Muottas Muragl became the first plus-energy hotel in the Alps

Perched high up in the Swiss Alps, Muottas Muragl Romantik Hotel is a real treat and popular for celebrating special occasions. Hotel manager Anne-Pierre explains how a combination of strict environmental standards in construction and utilising renewable solar and geothermal energy helped Muottas Muragl achieve energetic self-sufficiency and to even produce more energy than it actually needs.
Read the interview here
---
Claudia Züllig on achieving sustainability, top guest ratings, and employee satisfaction

A real sustainability stalwart in Switzerland's hospitality scene, Hotel Schweizerhof Lenzerheide – run by Andreas and Claudia – shows how sustainable hospitality can be achieved through passion and concerted efforts. Champions in offering locally sourced produce, artisanal drinks, and creating employee satisfaction, it is no surprise that Hotel Schweizerhof Lenzerheide is among the best-rated hotels in Eastern Switzerland.
Read the interview here
---
Martin Nydegger on sustainability strategies of Switzerland Tourism

Switzerland's scenic countryside and the country's commitment to safeguarding these natural assets is a crowd puller. Find out from Martin, the CEO of Switzerland Tourism about the sustainability measures implemented across the destination, such as promoting biking tours, wildlife watching, and even prolonging fall activities such as biking and hiking in December due to less snowfall owing to climate change.
Read the interview here
---
Fredi Gmür on sustainability at Swiss Youth Hostels

With sustainability as a core part of its business model, Swiss Youth Hostels have managed to reduce energy consumption and greenhouse gas emissions of their properties, among myriads of other initiatives in place for sustainability. Former CEO, Fredi explains how this is only possible when the management board and every employee "walk the talk" in sustainability, and implement measures consistently in their daily work.
Read the interview here
---
Lukas Stadtherr on promoting carbon-neutral mobility
By building a strong network of services through public and private partnerships, SwitzerlandMobility makes it easy for visitors to enjoy a Swiss vacation, promoting car-free traffic options like the train, hiking, cycling, mountain biking, skating, and canoeing. Lukas tells us how they do it.
Read the interview here
---
Olivier Cheseaux on eco-friendly architecture in rural accommodation

With a motive to retain the charm and heritage of Swiss mayens, Olivier, architect and manager of Anakolodge shares his experience of refurbishing wooden huts on the hilly slopes of Evolène in the French-speaking Valais region, to propagate the idea of sustainable construction, in harmony with the surroundings and using recycled material.
Read the interview here
---
Benoit Greindl on resilience and sustainability in tourism
Montagne Alternative, a mountain retreat located high up in the Swiss Alps near Montreux, is the perfect accommodation for eco-conscious visitors who want to feel one with nature. Benoit, co-founder and manager of Montagne Alternative, explains why a focus on resilience and sustainability in tourism is no longer a "nice to have", but a necessary requirement for meeting traveller expectations.
Read the interview here
---
Theo Schnider on establishing Switzerland's first biosphere reserve
Recognised by UNESCO as a model region for sustainable living, responsible business, and nature protection, the approach of Entlebuch Biosphere to regional development and sustainability sets an example for other biosphere reserves to learn from. Theo has been involved from the start.
Read the interview here
---
Urs Wohler on community leadership and regional sustainability

Urs, CEO of Niesenbahn AG, illustrates why political leadership and support at a regional level are essential for destination sustainability. He also stresses how sustainability can work as an opportunity for differentiation from competitors, and how DMOs and travel businesses can work towards tourism sustainability.
Read the interview here
---
Reto Fry of Flims-Laax-Falera on the Greenstyle approach to sustainability

Popular winter destination Laax is making great strides towards sustainability, including minimising diesel consumption and optimising the slope preparation process. Reto, the Environmental Manager at Weisse Arena Group, introduces us to the Greenstyle approach and to the destination's ambitious plans to reduce residual waste, CO2 emissions, and electricity consumption.
Read the interview here
---
Our thanks to Swiss Youth Hostels, Swiss Travel System, SWISS and Rhaetian Railways for supporting our series of interviews with Swiss sustainable tourism leaders, champions, and changemakers.
---
Did you enjoy our series of interview portraits with sustainable tourism champions and changemakers in Switzerland? Thanks for sharing!
Curious how destinations in other parts of the world approach sustainability? Visit our leading sustainable destinations section for additional stories and good practice examples!