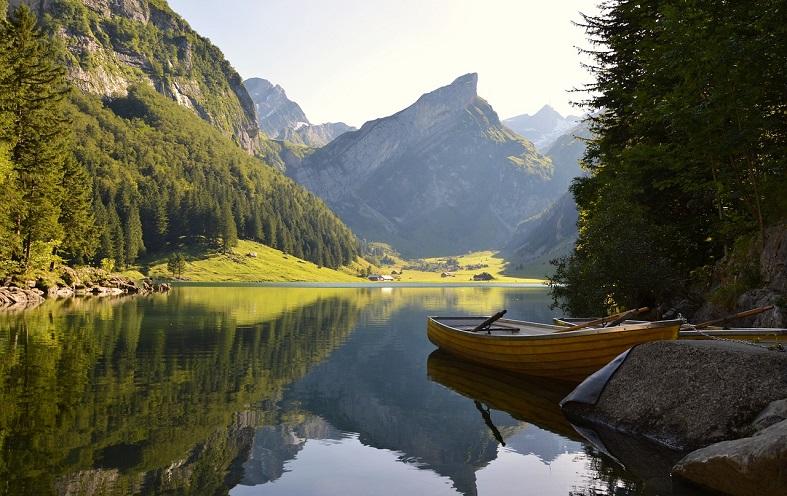 ON TOUR in Switzerland: Swiss sustainable tourism leaders, stories and examples.

Much loved and admired for its natural beauty, Switzerland is a destination high up on wishlists of travellers around the world, especially and increasingly also Asians. But how does the country's popularity as tourism destination affect its sustainability? How are its mountain destinations adapting to the consequences of climate change, such as less snow? And how are Switzerland's hotels and other tourism businesses living up to the high expectations from environmentally conscious travellers?
To get answers to those and other questions, we toured around Switzerland in September 2018 and caught up with Swiss tourism leaders and sustainability changemakers.
---
Destination Switzerland supporters: Swiss Youth Hostels, Swiss Travel System, SWISS and Rhaetian Railways.
---
Kaspar Howald
As Director of Valposchiavo Tourism, Kaspar Howald has been a driving force behind the destination's "100% Valposchiavo" initiative, aimed at connecting agriculture, local trade and tourism. In this interview he shares how the initiative works and tells us about its successes and challenges.
Read the interview here
---
Anne-Pierre Ackermann
Imagine you are in charge of managing a design hotel and fine restaurant high up in the Swiss alps, overlooking St Moritz and the Engadin lakes, and your job is to operate it as sustainable as possible – keeping energy consumption low (while ensuring high guest satisfaction) and minimizing food waste. How would you do it?
Anne-Pierre Ackermann of the Muottas Muragl Romantik Hotel tells us in this interview.
---
Claudia Züllig
Claudia and Andreas Züllig – the dream team behind the success of the upscale yet down-to-earth hotel Schweizerhof Lenzerheide in the Swiss canton of Graubünden – are well known in hospitality circles in Switzerland. Not just because of their warmth and enthusiasm about anything to do with offering great guest experiences, but also because they have succeeded in implementing sustainability practices while maintaining a very high guest satisfaction rate – and high staff retention.
Read the interview here
---
Martin Nydegger
Martin Nydegger, CEO of Switzerland Tourism, in this first interview of our series with Swiss sustainable tourism leaders and changemakers, highlights the importance of sustainability for the country's image and tourism offer.
Read the interview here
---
Fredi Gmür

Fredi Gmür, former CEO of Swiss Youth Hostels tells us why the award-winning organization has made sustainability a core part of its business model, and how it has managed to reduce its energy consumption and carbon footprint.
Read the interview here
---
Lukas Stadtherr
Lukas Stadtherr of SwitzerlandMobility (SchweizMobil) in this interview tells us how the network promotes car-free travel in the country.
Read the interview here
---
Olivier Cheseaux
Olivier Cheseaux, architect and manager of Anakolodge in the Valais region of Switzerland, illustrates how innovative architecture and design can contribute to sustainable buildings and destinations – and the survival of entire villages!
Read the interview here
---
Benoit Greindl
Benoit Greindl, co-founder and manager of the mountain retreat Montagne Alternative in the Valais region of Switzerland, shares his story and tells us why a focus on resilience and sustainability in tourism is no longer a "nice to have", but a necessary requirement for meeting traveller expectations.
Read the interview here
---
Theo Schnider
Theo Schnider, director of UNESCO Biosphere Entlebuch, shares his experience of developing, managing and promoting a nature-based destination. His use of humour in how he presents Entlebuch is a timely reminder not to take ourselves too seriously, and to focus on opportunities and creative problem-solving in tourism, rather than letting ourselves be dragged down by the challenges.
Read the interview here
---
Urs Wohler
Urs Wohler, CEO of Niesenbahn AG and former director of the destination Scuol Sammaun Val Müstair in Switzerland, tells us why political leadership and support at regional level is essential for destination sustainability, and how mountain destinations can succeed in becoming more sustainable.
Read the interview here
---
Reto Fry
Reto Fry, Environmental Manager at Weisse Arena Gruppe in Laax and Flims, on the day-to-day challenges of a popular winter destination and how the company's "Greenstyle" philosophy and strategy promotes a more responsible tourism.
Read the interview here